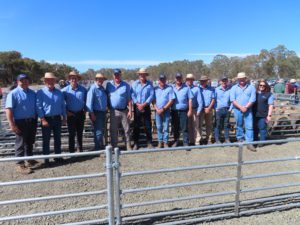 The Annual First Cross Ewe and Ewe Lamb Sale was held at Edenhope on Thursday 11 November, yarding 10,200 ewe lambs and hoggets, making it the largest yarding in the over 30-year history of the sale.
Prices averaged at $315 per head, with the sale grossing $3.3 million. The top price of $480 for one and a half-year-old ewes was achieved twice on the day, and prices reached $364 for ewe lambs, with both categories breaking the previous top price record for the sale.
This was the first sale at Edenhope for the rapidly expanding wool, livestock, and property agency, AWN, which recently recruited 20 agents across the Wimmera district. As part of this expansion, two new branch locations were established at Edenhope and Stawell, with additional agents joining AWN's existing branch at Horsham.
AWN Edenhope branch manager, David Hanel said that vendors were very supportive of the new sale yards and company.
"We saw the usual strong buying support from the local Wimmera and South-West Victorian graziers, who have been purchasing from Edenhope for many years. We also saw a number of new clients selling for the first time at Edenhope which was pleasing to see," Mr Hanel said.
"We are glad to be able to continue the over 30-year tradition of the Annual First-Cross Sale at Edenhope under a new name, supporting more clients across the region."
The inaugural John McDonald Memorial Best Presented Award was presented to the Chadwick family of "Stobo", Miga Lake, for 146 of their ewe lambs.
Proceedings paused at 11 am, with all in attendance observing one minute's silence for Remembrance Day.