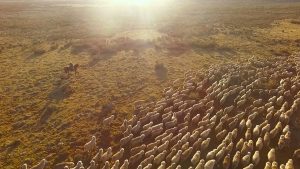 Australian woolgrowers have a habit of striving for excellence and the Downie family from Dungrove in Bothwell in the central highlands of Tasmania are a perfect example.
In 1960 the owner of Dungrove, Ian Downie, was running a high-quality flock of Superfine Saxon Merinos but recognised the need for a more fertile, higher wool producing and larger framed sheep.  He enlisted the scientific help of the Division of Animal Genetics of the Commonwealth (New South Wales, Australia) Scientific and Industrial Research Organisation.
Extensive research and carefully controlled genetic studies ensued. The end result was to cross stud Corriedale rams with superfine Saxon merino ewes. The progeny of this crossing, which met rigid selection criteria and were assessed by objective measurement, became the Cormo breeding nucleus.
The word Cormo is derived from the letters from the names of the two parent breeds – Corriedale and Merino. The Cormo still exists today, and the Downie family operate the world's largest flock of Cormos on their property Dungrove in Bothwell in the central highlands of Tasmania.