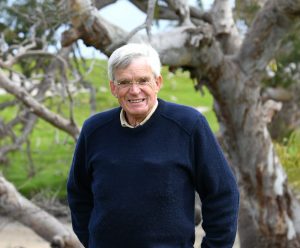 Peter & Margie England, Blackford, Kingston SA
Peter England is a fifth generation farmer from Kingston South Australia.  He and his wife Margie have been running their specialist wool growing business, with some 7,000 merino sheep, at their property Blackford since 1970.
Peter studied Agricultural Science and Economics at University and taught Farm Management at Roseworthy Agricultural College before returning to the farm with his wife, Margie.
Their son, Jonathan, is now home on the property with his family and their daughter, Monique, lives in Adelaide. She and her sons spend as much time at the farm as possible.
Our children and grandchildren all love wool and Merino sheep and are all involved in our wool growing business.  We continually strive to breed better sheep and grow better pastures to improve our product.
We love wool because it is a beautiful natural fibre.  We run exclusively Merino sheep on our land because they are so hardy and perform well across a range of conditions. We love the outdoor life and enjoy working with sheep and sheep dogs too.  We very much enjoy the challenge of selecting and breeding a sheep that will be productive and easy care.
What does it mean to you to know who is wearing your wool?
We have always been keenly interested in knowing who buys our fine Merino wool and in knowing that it is eagerly sought by processors to produce yarns for stylish comfortable woollen clothing. To now know who is wearing our beautiful wool is an exciting next step for us.
What would you like to say to the person wearing your wool?
We take great care and pride in growing the very best wool possible in our environment to ensure the comfort and enjoyment of the discerning customers who buy clothing made from our soft superfine wool. Wool growing is definitely our passion.