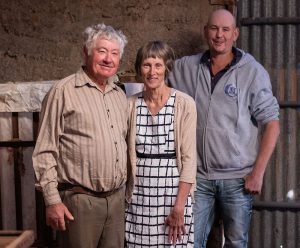 In the Flinders Ranges of South Australia it might be hard for some to say the name of the township of 'Orroroo' but for Kevin and Anne Bartlett, it's something they mastered at a very early age.
Both Kevin and Anne and their families have been farming in the Orroroo district all their lives.  A life long passion they are committed to growing a multi purpose productive sheep – one that can offer a good return on both wool production and meat.
Running around 1,600 merino and suffolk sheep has been the answer and has provided for the family for nearly 50 years.
As both a shearer and a woolgrower, Kevin understands that hard work pays off in success. Today the Bartletts, along with their son Scott (a farmer as well as a boilermaker by trade), are now actively involved in the production and supply of wool to suit the manufacture of luxurious knitwear for MerinoSnug.
Q. What does it mean to you to know who is wearing your wool?
A. Look after my wool and it will give you years of simple pleasure and winter warmth.
Q. What would you like to say to the person wearing your wool?
A. Wear with pleasure