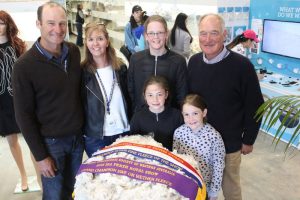 Hello my name is Stuart Rintoul and I'm a woolgrower from Williams in Western Australia. I have lived and farmed on the family property at Williams since 1947.  We run approximately 15,000 merino and poll merino sheep.
I farm alongside my wife Corinne and two sons, Andrew and Kim, with their wives Kirsty and Danielle and their families. The property has been in the family since 1912 which I helped develop from a young age. We run three merino studs, Dongiemon medium wools, Tilba Tilba fine wools and Tilba Tilba Poll fine wools.
Q. What does it mean to you to know who is wearing your wool?
A. Gives me a tremendous sense of pride and satisfaction.
Q. What would you like to say to the person wearing your wool?
A. Please enjoy wearing this unique product which has been produced with much passion.