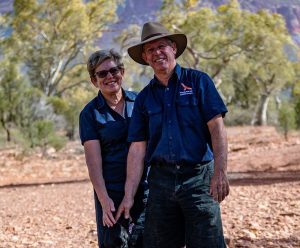 The Smith family first farmed in the Hawker district in 1884. Tony's Grandparents Howard and Ida Smith moved to Prelinna in 1923 and Clem Smith to Rawnsley Park in 1953.
Rawnsley Park is now a major tourist destination offering accommodation, camping, restaurant and tours of the nearby Ikara Flinders Ranges National Park.
Tony and Julie have been managing Rawnsley Park since 1984 when they took over from Tony's parents, Clem and Alison Smith. Traditionally Bungaree blood merinos until 2010 when dohne blood was introduced.
The Flinders Ranges is well suited to breeding and growing merino sheep. The low rainfall and steep terrain is able to be handled by our plain bodied mobile animals. It is very satisfying to be able to produce a top quality product from land that is not suitable for other agricultural uses.
Rawnsley Park shears around 2,000 sheep per annum and is currently running around 1,200 merino and dohne ewes.
Q. What does it mean to you to know who is wearing your wool?
A. I am really interested in knowing who wears the wool produced at Rawnsley Park. I believe that by taking an interest in the whole supply chain we learn more about what the end consumer is really looking for. In this way we will be more adaptable and more likely to produce a product that is well suited to the customer needs.
Q. What would you like to say to the person wearing your wool?
A. Please value the garment you are wearing. This wool has been produced from sheep living in some of the driest country in the Flinders Ranges and Outback of South Australia. It is so valuable to be able to produce this wool from the land that is too dry to grow other agricultural produce. It is a special fibre.